Affirmative Action Plan Applicant Tracking Ppt Example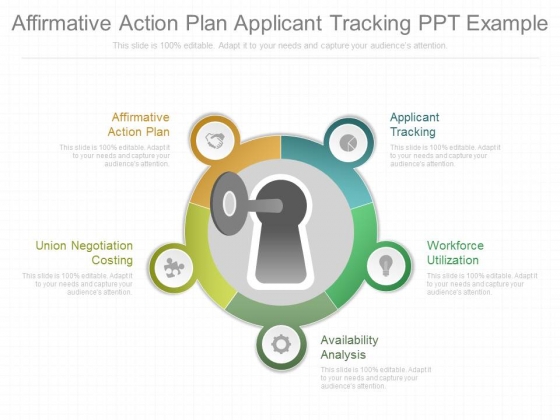 Slide 1 of 7
Features of these PowerPoint presentation slides:
This is a affirmative action plan applicant tracking ppt example. This is a five stage process. The stages in this process are affirmative action plan, union negotiation costing, availability analysis, workforce utilization, applicant tracking. App-date your audience with our Affirmative Action Plan Applicant Tracking Ppt Example. Familiarize them with the current fad.
Download this Presentation
Customer Reviews

(2)
leave your comment
Looking for similar designs with different nodes/stages
Use this option to find similar designs but with different number of Stages. 'Stages' here means the number of divisions or graphic elements in the slide. For example, if you see a 4 piece circular design here, but you want the same design in 5 pieces, just select 5 here, and it'll show you all the options. This is a fast and convenient way to search for the right design in seconds.
People who downloaded this PowerPoint presentation also viewed the following:
Keywords:
Popular Keywords:
Affirmative Action Plan Applicant Tracking Ppt Example with all 0 slides:
Most relevant reviews
by Ankita Jhamb
Out of the box and creative design.