zuora capital raising elevator pitch deck PowerPoint Presentation Templates and Google Slides
Slide 1 of 35
Zuora Capital Raising Elevator Pitch Deck Ppt PowerPoint Presentation Complete With Slides
Induce strategic thinking by presenting this complete deck. Enthrall your audience by deploying this thought provoking PPT deck. It can be downloaded in both standard and widescreen aspect ratios, thus making it a complete package to use and deploy. Convey your thoughts and actions using the thirty five slides presented in this complete deck. Additionally, feel free to alter its components like color, graphics, design, etc, to create a great first impression. Grab it now by clicking on the download button below.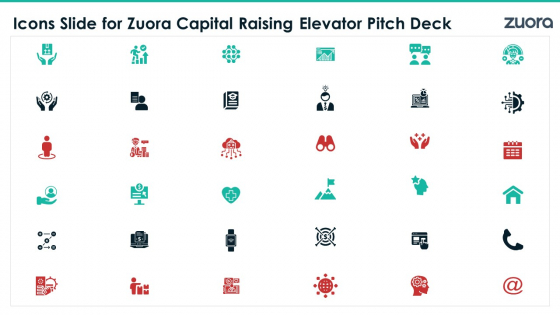 Slide 1 of 2
Icons Slide For Zuora Capital Raising Elevator Pitch Deck Ideas PDF
Introducing our well designed icons slide for zuora capital raising elevator pitch deck ideas pdf set of slides. The slide displays editable icons to enhance your visual presentation. The icons can be edited easily. So customize according to your business to achieve a creative edge. Download and share it with your audience.