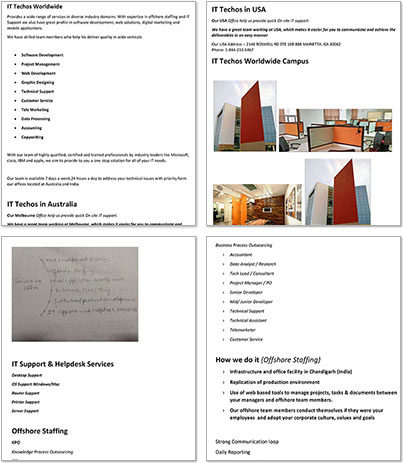 Design Services Details
Get Started Submit Order!
WHAT THIS PACKAGE INCLUDES:
A branded presentation template designed using 3rd party software such as Adobe Photoshop, Illustrator, or Corel Draw (since PowerPoint does not have advanced graphic designing capabilities).
Template includes a Title Slide, Section Header Slide, Text Slide containing a branded header and footer as well as some additional content slides.
Option to choose amongst 3 to 4 Title Slide designs, each as good as the other to help you choose your favorite. We welcome your feedback and changes, if any.
Once you choose the Title Slide of your choice, we create the Section Header slide and the Header and Footer of Text Slide accordingly.
Template design adheres to your brand guidelines, otherwise, we choose the best color palette and custom fonts that matches your brand identity.
Additional branded slide designs like Bullet Text Slide, Graphs and Charts Slide, Image Slide, Graphics and Icon Slide.
Template in the PPT format you require- standard screen or widescreen format or both.
A minimum turnaround time of 48 hours since the template requires extra time and effort for the flawless look.
The cost of a basic customized Presentation Template starts at $249.99 and includes a Title Slide, Section Header Slide and Header and Footer of Text Slide. If you need more options and designs, then the cost increases as per your requirements.
SlideGeeks is the one-stop-destination for all custom design needs. Our expert designers create customized Presentation Templates based on the client's requirements, brand identity, as well as the latest design trends in the business world. A complete template package includes a stunning Title Slide, Section Header slides, Text Slides, and more. Our graphic designers go beyond PowerPoint and use advanced graphic design software like Adobe Photoshop, Core Draw, Illustrator, etc. to craft the perfect presentation template. This requires considerably more time and efforts but since template is the face of your brand in a presentation, it has to be flawless!
We also design attention-grabbing diagrams or graphics that meet the specifications of academic journals and science publications. Last but not the least, we help businesses revamp their Company Logo and even create logos from scratch for a startup.
HOW IT WORKS:
Submit your custom design requirements by clicking the "Get Started Submit Order!" button. Or send us an email at

[email protected]

The first draft of the custom design is ready and sent after 48 hours. We wait for your feedback and welcome any suggestions from your end.
After you have given your approval, we hand over the complete template to you that you can use for all your future presentations.
Once you submit your request, we'll review your template, logo, or graphic requirements and tell you the final quotation within 24 hours. Once the quotation is approved, we start working on crafting your template.