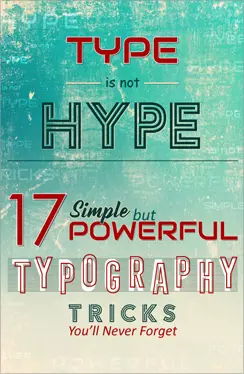 Price $19.99
17 Simple but Powerful Typography Tricks You'll Never Forget
By SlideGeeks
Price $19.99 for this ebook or $39.99 for the entire collection
or get everything free with a premium subscription to SlideGeeks
PUBLISHED ON 4 February, 2022
PAGES:41
Words are important but their "look" matters more. Newspapers, magazines, or websites choose their font very carefully. The weight, size, height, width, style of lettering, spacing between characters, and the combination of all these culminate in making a font or typeface. And each font therefore has a unique personality.
The fonts you choose for your presentation content subconsciously influences the way audiences perceive your words. Your font choice may convey authority or submission, seriousness or light heartedness, boldness or lightness, stability or movement.
99 out of 100 presenters never ventured beyond Arial or Helvetica. These are safe fonts and work alright too. Yet there may be a font out there on the web which was perfectly suited for your message. And it isn
Most relevant reviews
by Monga
Designing has been my biggest nightmare as I am not even a beginner in designing. It has been the trickiest part of my job profile. However, these ebooks changed my design and me for better!
by Ajay Mohan
Great way to light up a creative designer in oneself. I believed that I can never become a good designer. I struggled a lot while designing banners for my company. But these eBooks completely changed my perception about design. Thank you SlideTeam for suc
by Nusrat
Incredible and creative books that tell you everything about design and how you can improve them to get noticed. I loved how passionately written these ebooks are with each and every element carefully chosen to create such wonderful masterpieces. Eagerly
Frequently Asked Questions
+
How do I download eBooks?
You first need to be a SlideGeeks member (free or paid membership) to download eBooks.
Steps to Download eBooks for Free User:
Once you have logged in to SlideGeeks, head over to the eBook you wish to download. We offer 3 options:

Buy 1 eBook for $19.99
Buy All eBooks for $39.99
Buy with Subscription
The third option takes you to the
Pricing
page where you can choose any of our premium plans and get eBooks absolutely free. Once you have paid the subscription charges, you will be taken back to the eBook page where you can click the "Download" button and download books for free. Besides this, you will also get a copy of eBook(s) on your email id registered with us.
Steps to Download eBooks for Premium User:
Simply login to your SlideGeeks account, head over to the eBooks page and click the "Download" button to instantly download eBooks. You will also receive a copy of the eBook(s) you downloaded on your email id registered with us.
+
Do I have to sign up on SlideGeeks to purchase an eBook?
Yes, you need to have an account on SlideGeeks (free or paid) to be able to download eBooks. Our premium users get free eBook downloads. For free users, one eBook is available for $19.99 while the total eBook set can be downloaded for $39.99.
+
Do I get a discount if I purchase more than one eBook?
We are currently offering an attractive discount on our complete eBook set. You can buy all eBooks for the price of $39.99. The price of one eBook has been kept at $19.99. If you wish to purchase two eBooks, you will have to pay the price of two and so on. Buying the complete eBook set will be the best deal for you if you wish to purchase more than one eBook.
+
I have a Premium subscription. Am I eligible for free eBooks?
Yes, if you have subscribed to any of our premium plans such as Semi Annual, Annual or Team License, you can download our eBooks for free. You can simply login to SlideGeeks, head over to the eBook page and click on the "Download" button to download our eBooks for free.
+
What methods of payments I can use to buy eBooks?
We accept payments through PayPal and Stripe. All credit cards and debit cards are accepted for payments (Visa, Mastercard, American Express and Discover).
+
What does the option "Get this for free with our premium subscriptions" mean?
We have three premium subscription packages for our customers - Semi Annual, Annual and Team License. All these plans come with free eBook downloads. You can know more about the offerings under each premium plan from our Pricing page. Purchasing premium SlideGeeks subscription is more beneficial in the long run as you get presentation downloads, custom slide designs, customer support, and free eBooks.