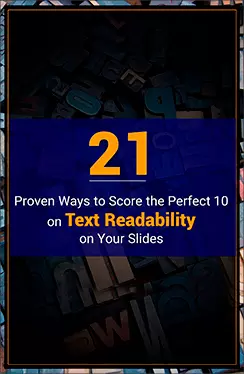 Price $19.99
21 Proven Ways to Score the Perfect 10 on Text Readability on Your Slides
By SlideGeeks
Price $19.99 for this ebook or $39.99 for the entire collection
or get everything free with a premium subscription to SlideGeeks
PUBLISHED ON 4 February, 2022
PAGES:50
Your presentation copy - headlines, sub-headlines, and body copy - is the soul of your presentation. It is the message you wish to convey. Yet, presenters often do not pay much thought to what is being said and how it is being said.
Paragraphs of text, long list of bullet points, and boring headlines kill the audience's interest. Add to that poor design and shrinking attention spans and the text is altogether ignored by the audience.
This eBook helps presenters bring back the power of words in their presentation. Through this eBook, you will learn:
Difference between legibility and readability
How to choose the right font type - Serif or Sans-Serif for your presentation
Basic guidelines for easy text readability
Ways to add text over images without sacrificing readability of text and the impact of the visual
Tweaks to make the text look more commanding and attention-grabbing
Presenting your message convincingly on the screen is crucial to presentation success. Learn how to treat text as a visual element and help the audience absorb maximum information in the shortest time!
Most relevant reviews
by ann
These eBooks have been a game-changer for me when it comes to designing my own presentations. Before these, I never knew how fonts can make such a huge difference and transform my presentations from the usual to something extraordinary and unique!
by Akash Bathla
Finally, there are books that explain the power and fundamentals of design that every designer should be aware of! Go ahead and purchase these eBooks if you want to up your design game.
Frequently Asked Questions
+
How do I download eBooks?
You first need to be a SlideGeeks member (free or paid membership) to download eBooks.
Steps to Download eBooks for Free User:
Once you have logged in to SlideGeeks, head over to the eBook you wish to download. We offer 3 options:

Buy 1 eBook for $19.99
Buy All eBooks for $39.99
Buy with Subscription
The third option takes you to the
Pricing
page where you can choose any of our premium plans and get eBooks absolutely free. Once you have paid the subscription charges, you will be taken back to the eBook page where you can click the "Download" button and download books for free. Besides this, you will also get a copy of eBook(s) on your email id registered with us.
Steps to Download eBooks for Premium User:
Simply login to your SlideGeeks account, head over to the eBooks page and click the "Download" button to instantly download eBooks. You will also receive a copy of the eBook(s) you downloaded on your email id registered with us.
+
Do I have to sign up on SlideGeeks to purchase an eBook?
Yes, you need to have an account on SlideGeeks (free or paid) to be able to download eBooks. Our premium users get free eBook downloads. For free users, one eBook is available for $19.99 while the total eBook set can be downloaded for $39.99.
+
Do I get a discount if I purchase more than one eBook?
We are currently offering an attractive discount on our complete eBook set. You can buy all eBooks for the price of $39.99. The price of one eBook has been kept at $19.99. If you wish to purchase two eBooks, you will have to pay the price of two and so on. Buying the complete eBook set will be the best deal for you if you wish to purchase more than one eBook.
+
I have a Premium subscription. Am I eligible for free eBooks?
Yes, if you have subscribed to any of our premium plans such as Semi Annual, Annual or Team License, you can download our eBooks for free. You can simply login to SlideGeeks, head over to the eBook page and click on the "Download" button to download our eBooks for free.
+
What methods of payments I can use to buy eBooks?
We accept payments through PayPal and Stripe. All credit cards and debit cards are accepted for payments (Visa, Mastercard, American Express and Discover).
+
What does the option "Get this for free with our premium subscriptions" mean?
We have three premium subscription packages for our customers - Semi Annual, Annual and Team License. All these plans come with free eBook downloads. You can know more about the offerings under each premium plan from our Pricing page. Purchasing premium SlideGeeks subscription is more beneficial in the long run as you get presentation downloads, custom slide designs, customer support, and free eBooks.