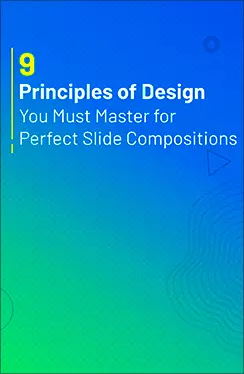 Price $19.99
9 Principles of Design You Must Master for Perfect Slide Compositions
By SlideGeeks
Price $19.99 for this ebook or $39.99 for the entire collection
or get everything free with a premium subscription to SlideGeeks
PUBLISHED ON 4 February, 2022
PAGES:85
Rules are meant to be broken. But to break the rules, you should first know them!
The creative field of design is also based on certain rules and principles that must be followed to create compositions that make sense to the audience. These rules are broken once they have been first mastered and when the situation demands so.
There are 9 major principles of design that every professional designer masters to create powerful and pleasing designs. These are balance, contrast, emphasis, movement, repetition, white space, proximity, proportion, and unity.
Whether you are a beginner or a professional seeking a refresher course, this eBook will show you the principles in action in web design and other industries as well as PowerPoint presentations.
Grab this eBook to learn:
How to use the principle of balance to create well-composed slides
How to apply contrast and emphasis to create a visual hierarchy in your compositions
How movement can be artificially created in static slides
How white space, proximity, proportion, and unity contribute to making designs pleasing to the eye and message more impactful
The practical knowledge of design principles differentiates a professional designer from an amateur. Step into the league of pros with this insightful eBook!
Most relevant reviews
by tumpa singha ray
Love how descriptive, and well-written these eBooks are! They have carefully compiled so that even a beginner like me can learn everything about designing. Thank you for these valuable and handy eBooks SlideTeam. I have downloaded all 12 of them.
Frequently Asked Questions
+
How do I download eBooks?
You first need to be a SlideGeeks member (free or paid membership) to download eBooks.
Steps to Download eBooks for Free User:
Once you have logged in to SlideGeeks, head over to the eBook you wish to download. We offer 3 options:

Buy 1 eBook for $19.99
Buy All eBooks for $39.99
Buy with Subscription
The third option takes you to the
Pricing
page where you can choose any of our premium plans and get eBooks absolutely free. Once you have paid the subscription charges, you will be taken back to the eBook page where you can click the "Download" button and download books for free. Besides this, you will also get a copy of eBook(s) on your email id registered with us.
Steps to Download eBooks for Premium User:
Simply login to your SlideGeeks account, head over to the eBooks page and click the "Download" button to instantly download eBooks. You will also receive a copy of the eBook(s) you downloaded on your email id registered with us.
+
Do I have to sign up on SlideGeeks to purchase an eBook?
Yes, you need to have an account on SlideGeeks (free or paid) to be able to download eBooks. Our premium users get free eBook downloads. For free users, one eBook is available for $19.99 while the total eBook set can be downloaded for $39.99.
+
Do I get a discount if I purchase more than one eBook?
We are currently offering an attractive discount on our complete eBook set. You can buy all eBooks for the price of $39.99. The price of one eBook has been kept at $19.99. If you wish to purchase two eBooks, you will have to pay the price of two and so on. Buying the complete eBook set will be the best deal for you if you wish to purchase more than one eBook.
+
I have a Premium subscription. Am I eligible for free eBooks?
Yes, if you have subscribed to any of our premium plans such as Semi Annual, Annual or Team License, you can download our eBooks for free. You can simply login to SlideGeeks, head over to the eBook page and click on the "Download" button to download our eBooks for free.
+
What methods of payments I can use to buy eBooks?
We accept payments through PayPal and Stripe. All credit cards and debit cards are accepted for payments (Visa, Mastercard, American Express and Discover).
+
What does the option "Get this for free with our premium subscriptions" mean?
We have three premium subscription packages for our customers - Semi Annual, Annual and Team License. All these plans come with free eBook downloads. You can know more about the offerings under each premium plan from our Pricing page. Purchasing premium SlideGeeks subscription is more beneficial in the long run as you get presentation downloads, custom slide designs, customer support, and free eBooks.