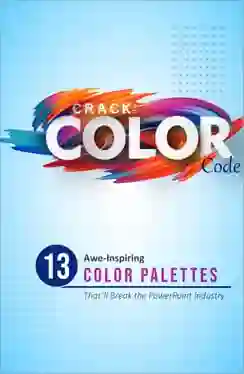 Price $19.99
13 Awe-Inspiring Color Palettes that'll Break the PowerPoint Industry
By SlideGeeks
Price $19.99 for this ebook or $39.99 for the entire collection
or get everything free with a premium subscription to SlideGeeks
PUBLISHED ON 4 February, 2022
PAGES:37
Web design, infographic design, social media design, and other fields are continuously reinventing themselves. The most heartening aspect of this is embracing of beautiful color schemes that are bringing our screens to life. PowerPoint presentation design is sadly stuck in the rut.
For fear of experimenting new and the pressure to look very professional, presenters are scared to add a bit of color to their slides. Those who risk, many a time, end up choosing mismatching colors that look kiddish and amateur - the very reason why the first type of presenters dared not experiment. Choosing a well-balanced color scheme that matches your brand and the subject is not that hard!
Knowledge of color basics will keep you from creating a color riot and help you choose vibrant color schemes that lift the tone and feel of your presentations. Through this eBook, you will learn:
Power of colors in branding and presentation design
Psychological properties of colors to influence the thoughts, emotions and behavior of your audience
Warm vs. cool color schemes and their effect on the viewers
13 ready-made color palettes that are trending in web design and have the potential to change the PowerPoint landscape
Design examples for inspiration
Colors are a powerful medium of communication. Leverage their power to treat your audience to soothing designs enriched by the right color. Once you and other presenters start applying the science of color psychology to presentation design, the PowerPoint industry will see a beautiful revolution and come at par with contemporary 21st century design.
Most relevant reviews
by preethi
I have over 10 years of experience in design and design-adjacent roles in many industries and this ebook really changed my perception about design. It really showed me how minutest of the details can make the biggest difference in design. It has surely ma
by robert
Thank You SlideTeam for sharing such knowledgable resources with us. I love to download your templates and these added ebooks are absolutely a delight to read!
by Shubhangi
I have always loved using your services SlideTeam. Trust me you are the best out there and coming with such amazing eBooks made me love your company even more. I can easily go through them on my iPad as they are so handy and useful.
Frequently Asked Questions
+
How do I download eBooks?
You first need to be a SlideGeeks member (free or paid membership) to download eBooks.
Steps to Download eBooks for Free User:
Once you have logged in to SlideGeeks, head over to the eBook you wish to download. We offer 3 options:

Buy 1 eBook for $19.99
Buy All eBooks for $39.99
Buy with Subscription
The third option takes you to the
Pricing
page where you can choose any of our premium plans and get eBooks absolutely free. Once you have paid the subscription charges, you will be taken back to the eBook page where you can click the "Download" button and download books for free. Besides this, you will also get a copy of eBook(s) on your email id registered with us.
Steps to Download eBooks for Premium User:
Simply login to your SlideGeeks account, head over to the eBooks page and click the "Download" button to instantly download eBooks. You will also receive a copy of the eBook(s) you downloaded on your email id registered with us.
+
Do I have to sign up on SlideGeeks to purchase an eBook?
Yes, you need to have an account on SlideGeeks (free or paid) to be able to download eBooks. Our premium users get free eBook downloads. For free users, one eBook is available for $19.99 while the total eBook set can be downloaded for $39.99.
+
Do I get a discount if I purchase more than one eBook?
We are currently offering an attractive discount on our complete eBook set. You can buy all eBooks for the price of $39.99. The price of one eBook has been kept at $19.99. If you wish to purchase two eBooks, you will have to pay the price of two and so on. Buying the complete eBook set will be the best deal for you if you wish to purchase more than one eBook.
+
I have a Premium subscription. Am I eligible for free eBooks?
Yes, if you have subscribed to any of our premium plans such as Semi Annual, Annual or Team License, you can download our eBooks for free. You can simply login to SlideGeeks, head over to the eBook page and click on the "Download" button to download our eBooks for free.
+
What methods of payments I can use to buy eBooks?
We accept payments through PayPal and Stripe. All credit cards and debit cards are accepted for payments (Visa, Mastercard, American Express and Discover).
+
What does the option "Get this for free with our premium subscriptions" mean?
We have three premium subscription packages for our customers - Semi Annual, Annual and Team License. All these plans come with free eBook downloads. You can know more about the offerings under each premium plan from our Pricing page. Purchasing premium SlideGeeks subscription is more beneficial in the long run as you get presentation downloads, custom slide designs, customer support, and free eBooks.