About SlideGeeks
SlideGeeks is a premier Research, Consulting and Design agency that develops and templatizes industry processes and best practices, frameworks and models across all industry and verticals to help customers present their strategies effectively and convincingly. In addition, SlideGeeks compiles data and statistics from thousands of sources over a wide range of topics to help customers make intelligent decisions. We develop and present our research in the form of fully editable PowerPoint template to make it easy for our customers to create presentations based on their individual requirements.
With a large team comprising of Research Analysts, Statisticians, Industry Experts and Designers spread over 6 countries, SlideGeeks now hosts the world's largest collection of Ready to Use PowerPoint templates on all topics and industries. Our team consists of professionals from Fortune 500 companies and Top Tier consulting firms involved in the process of researching and designing over a million slides that are available for our users on a subscription basis.
SlideGeeks Product Demo
Want a quick glance of our website? Check out this short demo video (on the right) that will show you how to find the product you require, download it, and edit it according to your needs. From altering the colors in the layouts and adding or removing a shape, to changing the data-driven charts and the theme of a PPT template in one click... this video covers everything seamlessly. Watch till the end and see how our stunning designs can make you a presentation rockstar in minutes.
1 Million+
Ready-to-use Presentations
on 100,000+
Extensively Researched Topics
83% of Fortune 500
Companies use our products
500+
Research Analysts, Statisticians, Industry Experts and Designers
Largest Collection
On the Planet
Extensively researched business presentation templates, statistics and reports across all industry verticals and functions
We've done the research and designing – just add your message and present.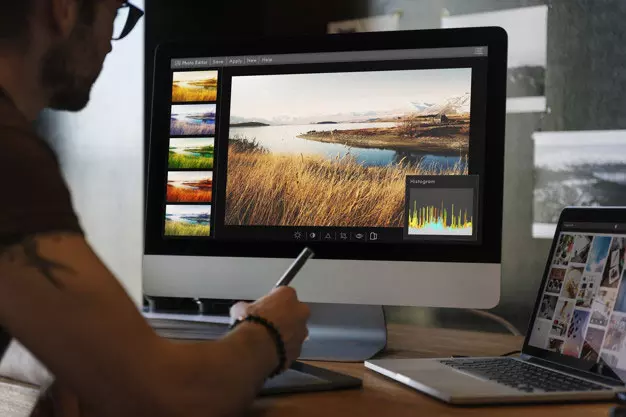 Access our resources for better understanding
Read our content-rich blog, case studies and success stories of our customers
SlideGeeks Blog- PowerPoint Tips, Tricks & Secrets Revealed
Learn the most powerful, time-saving presentation hatks, unlock PowerPoint designs secrets, access easy-to-follow PowerPoint tutorials, see examples of presentation makeovers and learn the art of typography, choosing dynamic color palettes, and more.

Presentation Success Stories
Check out how awe transformed rough presentation slides into eye-catchy, powerful pitches that audience loved.
View Case Studies

Marketing Research Success Stories
Browse through our research case studies involving exhaustive content research, data research and inferences.
View Case Studies

Financial Research Success Stories
Read our e-commerce and trends studies for clients helping them capitalize the market trends and create winning strategies.
View Case Studies
Our strengths
One-Stop Solution
Be it downloading any type of PowerPoint design, requesting branded designs from our team of designers, or needing research support, SlideGeeks can meet all your needs. Meet strict deadlines and improve business performance with our services
Dedicated Support
Once we receive customer's request, we thoroughly look into the specific requirements and clarify doubts if any. A dedicated design/research team is assigned to the project. We also offer dedicated email and phone support for quick redressal.
Top-Notch Quality
We strive to offer the best service to our customers. Our team brainstorms for the best project execution and delivery. Revisions are offered to meet full client satisfaction. Quick turnaround times without any compromise on quality is our biggest strength.
Client Confidentiality
We maintain strict confidentiality of the content and data of our clients. We even sign Non-Disclosure Agreements (NDA) with clients requesting so. We believe in complete transparency in project execution. No hidden costs. No false promises.

OVER A
100 MILLION

PRODUCTS DOWNLOADED WORLDWIDE

A collection of products with over 10 years of research and design available for instant download
Listen to what our clients says
Reviews about us
I have been a SlideGeeks subscriber for four years now, and can not imagine doing without the available resources for my consulting business. Recently, I engaged with the SlideGeeks Design Services group with the objective to improve a small, but very important, presentation slide deck. The result, I am ecstatic with the product and service; so much so that I asked how I could provide feedback and recognize this example of performance excellence. The Design Services team treated me and my project as if this was for a huge, high-paying client. The attention to detail, accurate fit with my intended message, professional design, and visual clarity has provided me with an outstanding set of slides. Just as important, their service professionalism means I will be utilizing the Design Services team at every opportunity. They made the whole process easy and seamless, delivered on time, listened, I mean REALLY listened, and provided expert advice. If only more service organizations practiced this type of customer service.
Robert Bateman
SlideGeeks Design Services has been one of the best presentation design companies I have worked with. They are professional and have provided excellent service in presentation design and creative work. Their team showed dedication above and beyond expectations and saving us time and resources. They have delivered within the committed time and we are treated with courtesy and respect at all times by their staff, and customer care is their largest priority. They are knowledgeable about everything in their business and are always looking for ways they can better serve their customers. I appreciate the professionalism and quality that we receive from SlideGeeks Design Services and I would highly recommend SlideGeeks Design Services to other companies needing similar services.
CEO, Linfox
Our sales team seriously needed a presentation design partner and we are glad we found SlideGeeks. Before, our presentations were lackluster with the same ideas and slides being repeated and we were losing clientele to other competitors. That?s when we decided on hiring SlideGeeks and their performance has been commendable. They completed revamped our existing presentations and our new presentations have been designed with eye-catching visuals, meaningful icons and images and accurate diagrams that support the content of each slide. I would highly recommend them to any company looking to partner with a professional presentation design team. An added unexpected bonus has been the boost in confidence of our sales team while presenting because they are backed by a solid presentation.
David Samuel
I have been using SlideGeeks to design complex, professional looking presentations that really impress the audience and bring my message across. Their service is outstanding. They design according to my requirements but at the same time think 'out of the box'. I would much rather use their services then spend hours trying to figure out what they do best in a very short turnaround time.
Hendra Bezuidenhout
SlideGeeks did an excellent job preparing my presentations on multiple occasions. Their work is professional and creative, providing new ideas for visual display while maintaining the integrity of my requests. Their customer service is outstanding and one of the best I have ever seen. They are prompt, efficient and have always kept to their commitments. I would highly recommend them to others who are looking for assistance in slide presentations.
KHR
SlideGeeks's Design Services is fantastic at transforming my ideas into exciting visual slides. They have always delivered within the committed turnaround time and have come to my rescue multiple times, sometimes even delivering on weekends for a Monday morning presentation. Faced with stiff deadlines and demanding schedules, I don't always have time to make my presentations professional. I now give my presentations to them knowing that what I get back will be the best and way better than what I can do. I really like their customer service of being able to speak to the design team manager to convey the details of the customized design I require, rather than sending by email which can be tedious and difficult to describe in writing.
William McCarvell
Clients, partners and offices in
87+ countries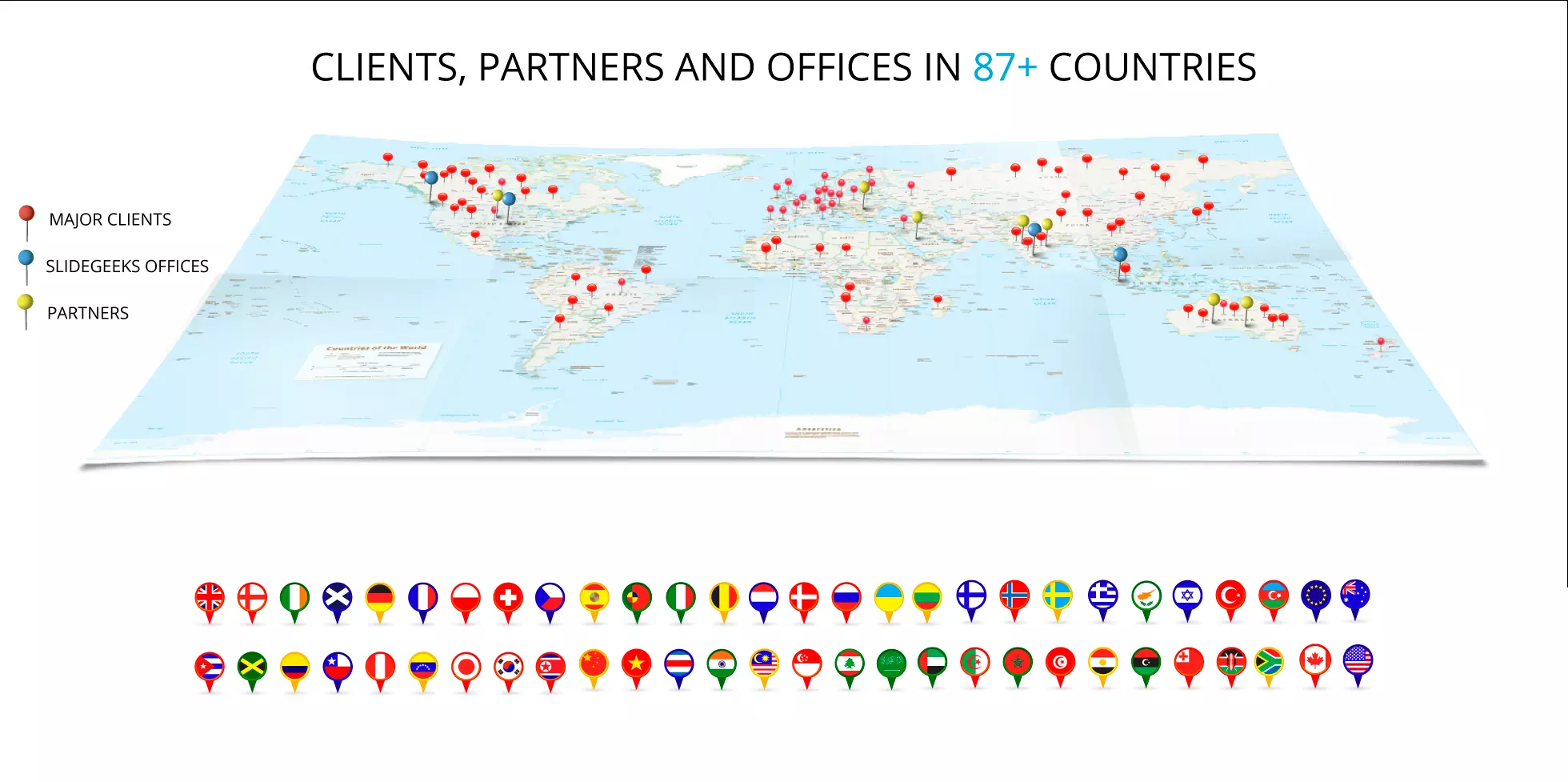 Representative Sales Office
Address: 1350, Avenue of the Americas, New York , 10019.
Finance Office
Address: 7500A BEACH ROAD #14-302 THE PLAZA SINGAPORE 199591.