Our Most Popular PowerPoint Templates, Backgrounds, Slides and Maps
Welcome to our assortment of Most Popular PowerPoint templates that are designed to assist you show your creative side and innovation your sphere. Planning and Innovation are two of the most important aspects of an emerging business. This section includes the designs that you require in your day to day presentations. Every day there are hundreds or even thousands of PowerPoint presentations created on various subjects such as business, medical, sales and marketing.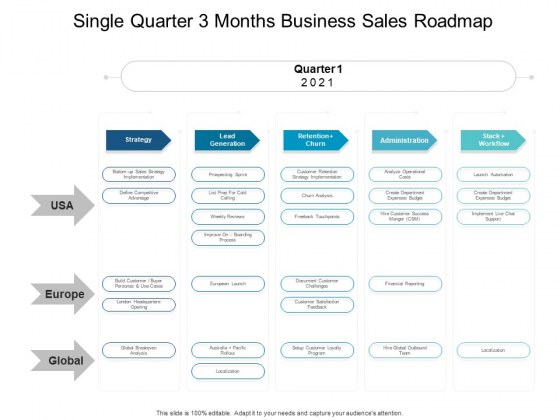 Single Quarter 3 Months Business Sales Roadmap Guidelines
Presenting the single quarter 3 months business sales roadmap guidelines. The template includes a roadmap that can be used to initiate a strategic plan. Not only this, the PowerPoint slideshow is completely editable and you can effortlessly modify the font size, font type, and shapes according to your needs. This PPT slide can be easily reached in standard screen and widescreen aspect ratios. The set is also available in various formats like PDF, PNG, and JPG. So download and use it multiple times as per your knowledge.
Single Quarter 3 Months Marketing And Sales Plan Roadmap Icons
Presenting our jaw dropping single quarter 3 months marketing and sales plan roadmap icons. You can alternate the color, font size, font type, and shapes of this PPT layout according to your strategic process. This PPT presentation is compatible with Google Slides and is available in both standard screen and widescreen aspect ratios. You can also download this well researched PowerPoint template design in different formats like PDF, JPG, and PNG. So utilize this visually appealing design by clicking the download button given below.