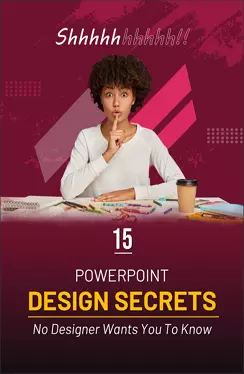 Price $19.99
15 PowerPoint Design Secrets No Designer Wants You To Know
By SlideGeeks
Price $19.99 for this ebook or $39.99 for the entire collection
or get everything free with a premium subscription to SlideGeeks
PUBLISHED ON 4 February, 2022
PAGES:131
Designing is an art and craft that can be learned. Great designers know their tools but that is not enough to churn out a great design. You need to first know what to put on the blank canvas before you can materialize that using the tools. A great design, therefore, requires a great idea first and then great techniques to flesh that out on PowerPoint slides.
So, back to square one - How do you start thinking like a designer? Who's better to tell than the designer himself or herself. We asked our team of designers how they train their minds to think creatively and churn out new designs every day. Turns out they follow a process. They have some principles they religiously adhere to. Some techniques that they trust will never make their design look bad in the eyes of the viewer. Some firefighting mechanisms to come up with a good design even when the situation looks hopeless.
We feel it's our moral duty to share these secrets with you. It is the age of knowledge sharing and no one benefits by keeping it locked behind doors. This eBook spills all the beans. Expect to learn through this eBook:
How to look at any concept in different ways and perspectives, basically like a designer does
Understand what good design means before you start designing
Master the design rules so that you can follow or break them effectively
Learn little design tricks that can create huge differences in your design
How to deal with any project professionally and leave out any scope for error
Step into a designers' shoes, minds, laptops by getting started with this eBook. Transform the way you look at your presentations and design in general. Hone your design skills and fall in love with this discipline. After all, a man is known by the design he keeps!
Most relevant reviews
by khangai
These eBooks have been a game-changer for me when it comes to designing my own presentations. Before these, I never knew how fonts can make such a huge difference and transform my presentations from the usual to something extraordinary and unique!
by chemny
These eBooks are great. They took me from being an absolute beginner to a pro with just a few hits and trials here and there. Do download these eBooks guys and if you do I am sure you won
by naamsrai
Earlier I used to make use of Photoshop to design anything. Even the simplest of the things were designed using Photoshop by my team as I thought PowerPoint does not have a lot of tools with which I can make my designs look more attractive. But your eBook
Frequently Asked Questions
+
How do I download eBooks?
You first need to be a SlideGeeks member (free or paid membership) to download eBooks.
Steps to Download eBooks for Free User:
Once you have logged in to SlideGeeks, head over to the eBook you wish to download. We offer 3 options:

Buy 1 eBook for $19.99
Buy All eBooks for $39.99
Buy with Subscription
The third option takes you to the
Pricing
page where you can choose any of our premium plans and get eBooks absolutely free. Once you have paid the subscription charges, you will be taken back to the eBook page where you can click the "Download" button and download books for free. Besides this, you will also get a copy of eBook(s) on your email id registered with us.
Steps to Download eBooks for Premium User:
Simply login to your SlideGeeks account, head over to the eBooks page and click the "Download" button to instantly download eBooks. You will also receive a copy of the eBook(s) you downloaded on your email id registered with us.
+
Do I have to sign up on SlideGeeks to purchase an eBook?
Yes, you need to have an account on SlideGeeks (free or paid) to be able to download eBooks. Our premium users get free eBook downloads. For free users, one eBook is available for $19.99 while the total eBook set can be downloaded for $39.99.
+
Do I get a discount if I purchase more than one eBook?
We are currently offering an attractive discount on our complete eBook set. You can buy all eBooks for the price of $39.99. The price of one eBook has been kept at $19.99. If you wish to purchase two eBooks, you will have to pay the price of two and so on. Buying the complete eBook set will be the best deal for you if you wish to purchase more than one eBook.
+
I have a Premium subscription. Am I eligible for free eBooks?
Yes, if you have subscribed to any of our premium plans such as Semi Annual, Annual or Team License, you can download our eBooks for free. You can simply login to SlideGeeks, head over to the eBook page and click on the "Download" button to download our eBooks for free.
+
What methods of payments I can use to buy eBooks?
We accept payments through PayPal and Stripe. All credit cards and debit cards are accepted for payments (Visa, Mastercard, American Express and Discover).
+
What does the option "Get this for free with our premium subscriptions" mean?
We have three premium subscription packages for our customers - Semi Annual, Annual and Team License. All these plans come with free eBook downloads. You can know more about the offerings under each premium plan from our Pricing page. Purchasing premium SlideGeeks subscription is more beneficial in the long run as you get presentation downloads, custom slide designs, customer support, and free eBooks.