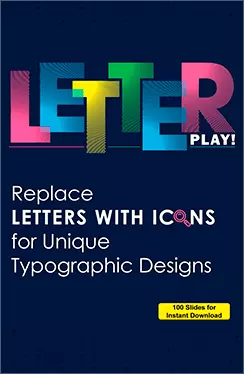 Price $19.99
Letter Play! Replace Letters with Icons for Unique Typographic Designs
By SlideGeeks
Price $19.99 for this ebook or $39.99 for the entire collection
or get everything free with a premium subscription to SlideGeeks
PUBLISHED ON 4 February, 2022
PAGES:126
Who says text is boring? Who says you can"t get creative with your presentation title? Text can grab the audience eyeballs too. In this eBook, we share the trick of making text on your cover slide or section header slide look visually impactful.
The trick is to add an icon in place of a letter in the title. The shape of the icon and letter should match. The icon should also be representative of the message so that the icon reinforces your message and adds the visual punch too.
Through this eBook, we will help you:
Learn how to find the right icon for your presentation title
Show you examples of this typographic technique from other industries
Showcase how the trick can be applied in PowerPoint presentations
Give you the download access to 100 PowerPoint slides designed using this hack
Words can be a feast for the eyes too. Give your audience a welcome relief from seeing those same designs and impress them with your creative effort. Play with letters and icons to create iconic slides!
Most relevant reviews
by JW
Design has never been my forte but these eBooks have made me fall in love with designing. I love to experiment a lot with my designs using the secrets that you have revealed in these eBooks. Please upload more eBooks on your website for beginners like me,
by April
Love how descriptive, and well-written these eBooks are! They have carefully compiled so that even a beginner like me can learn everything about designing. Thank you for these valuable and handy eBooks SlideTeam. I have downloaded all 6 of them and love t
by may
I have downloaded these on my Kindle and love sharing all the presentation secrets with my team of designers. This has surely helped them in designing amazing presentations and banners that my clients absolutely love!
Frequently Asked Questions
+
How do I download eBooks?
You first need to be a SlideGeeks member (free or paid membership) to download eBooks.
Steps to Download eBooks for Free User:
Once you have logged in to SlideGeeks, head over to the eBook you wish to download. We offer 3 options:

Buy 1 eBook for $19.99
Buy All eBooks for $39.99
Buy with Subscription
The third option takes you to the
Pricing
page where you can choose any of our premium plans and get eBooks absolutely free. Once you have paid the subscription charges, you will be taken back to the eBook page where you can click the "Download" button and download books for free. Besides this, you will also get a copy of eBook(s) on your email id registered with us.
Steps to Download eBooks for Premium User:
Simply login to your SlideGeeks account, head over to the eBooks page and click the "Download" button to instantly download eBooks. You will also receive a copy of the eBook(s) you downloaded on your email id registered with us.
+
Do I have to sign up on SlideGeeks to purchase an eBook?
Yes, you need to have an account on SlideGeeks (free or paid) to be able to download eBooks. Our premium users get free eBook downloads. For free users, one eBook is available for $19.99 while the total eBook set can be downloaded for $39.99.
+
Do I get a discount if I purchase more than one eBook?
We are currently offering an attractive discount on our complete eBook set. You can buy all eBooks for the price of $39.99. The price of one eBook has been kept at $19.99. If you wish to purchase two eBooks, you will have to pay the price of two and so on. Buying the complete eBook set will be the best deal for you if you wish to purchase more than one eBook.
+
I have a Premium subscription. Am I eligible for free eBooks?
Yes, if you have subscribed to any of our premium plans such as Semi Annual, Annual or Team License, you can download our eBooks for free. You can simply login to SlideGeeks, head over to the eBook page and click on the "Download" button to download our eBooks for free.
+
What methods of payments I can use to buy eBooks?
We accept payments through PayPal and Stripe. All credit cards and debit cards are accepted for payments (Visa, Mastercard, American Express and Discover).
+
What does the option "Get this for free with our premium subscriptions" mean?
We have three premium subscription packages for our customers - Semi Annual, Annual and Team License. All these plans come with free eBook downloads. You can know more about the offerings under each premium plan from our Pricing page. Purchasing premium SlideGeeks subscription is more beneficial in the long run as you get presentation downloads, custom slide designs, customer support, and free eBooks.